Selling an old truck can be very challenging. This is where QLD Car Removal comes to your help. We are a well-reputed company based in Queensland and providing quality services Brisbane wide, in Sunshine Coast and Gold Coast. Our company offers to provide you with a reliable old truck removal service and will buy at good price. We also offer the following services:
Instant cash offer up to $9,999
Accept all conditioned Trucks
Free old truck removal service
Free inspection by our technician
Free Quotation
Faster service available
Remove your Old Truck & Get Top Dollars up to $9,999!
Call 07 3172 2366.
Removing Trucks Responsibly for Years in Brisbane
We are an authentic and a reliable cash for car company with years of experience and expertise in removing trucks responsibly in Queensland. Over the years, we have learned that our customers deserve the best price for their old trucks. This is why we pay you top dollars up to $9,999!
The reason to sell a truck can be for many reasons; your truck may be severely old and running it poses risk, or you simply want to sell your old truck and upgrade to a new model. Regardless of your reasons, we'll buy your old truck along with:
Damaged Truck
Accident Truck
Used Truck
Broken Truck
Smashed Truck
Salvaged Truck
Wrecked Truck
And even new Truck
Our company's reputation evolves around the superior customer care we provide. Our staff with relevant skills, experience and expertise will ensure you receive the best service from us.
Calling us will be a smart decision because part of our service is about providing you with faster response. We can come over to your place within 24 Hours of your phone call, ensuring to inspect, pay you and remove your old truck at the first appointment. This is your chance to get top cash up to $9,999 for your old truck Brisbane wide, in Sunshine Coast and Gold Coast.
Old Truck Removal in Brisbane
Call and provide our staff with all the details regarding your car. Your information will help us to provide you with an accurate quote.
If you accept our quote, we'll book you in with one of our experienced technicians who will arrive at your place at the time and date given by you. A confirmed appointment means FREE TOW AWAY service from us.
On the appointed day, our technician will inspect, hand you documents to sign that will be completed by our staff and will give you the quoted amount before we remove the old truck from your location.
We have a fleet of tow trucks that are fully equipped with proper equipment to load and remove trucks, light trucks, vans and even buses, among Sedans, Utes, SUVs, 4WDs, etc.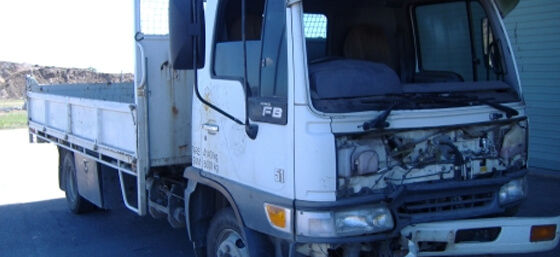 What Happens to Your Old Truck?
At QLD Car Removal, after we buy your old truck, we will take it to our Wrecking yard. Our yard is equipped with proper tools to carry out environmental friendly wrecking, dismantling and recycling. We dispose of all hazardous liquids, parts and batteries before recycling. We are experts in Recycling, Reselling and Reusing motor parts for all truck brands such as Isuzu, Ford, Volvo, and so on.
We Remove Cars of All Types
Our company not only removes old trucks for free but provides top dollars along with free car removals to all types such as Sedans, Utes, 4WDs, Buses, SUVs, vans, jeeps, motorcycles and so on.
Our Service Areas:
Brisbane, Sunshine Coast, Gold Coast and Toowoomba.
Call 07 3172 2366.